FAQ
This is a list of questions that our customers often ask and the answers to those questions. Please refer to it if there is anything you are unsure of.
From making reservations to boarding
Should I make a reservation?
It is necessary to make a reservation when arranging cruises for large groups (15 people or more) and private charter cruises.
Again, we are normally very busy at night, in the weekend and on public holidays. We recommend making a reservation if you will take a cruise at these times.  
▶
Reservation Page
Can I arrange a private charter?
We run private charter cruises. To check how to make a reservation and prices, please see our website's prices page.
Our staff are more than happy to help with birthdays, surprise marriage proposals and various other events, so please feel free to contact us.
▶ Click here to access our Contact Form
Reservations have closed or all seats available for reservation are taken. Is it still possible to buy tickets?
Even if all of the seats that can be reserved in advance are already taken, tickets for between 10 to 30 seats on all cruises are normally available for on-the-day sales.
If the weather is good, on-the-day tickets sales will start when our ticket center opens in the morning. Please be aware that tickets will be sold on a first-come first-served basis.
Tickets for cruises for which the operating status is "undecided" will not be sold until we decide that weather-wise it is safe to operate. Please check our operating status before coming to the ticket center.

+Please be aware that we do not accept requests by telephone, e-mail or message to have on-the-day tickets set aside.
All seats on the cruise I wanted to reserve are full. Can I wait for cancellations?
We are sorry, but we do not keep a list of people waiting for cancellations.
Please reserve a cruise at another time, or come to our ticket center and buy tickets for your preferred cruise on the day it will operate. On-the-day tickets sales for all cruises begins when our ticket center opens in the morning.
Again, please understand that occasionally because of cancellations by groups etc., we may start taking reservations for cruises that were previously shown to be full.
▶ Please click here to see our Cruise Timetable.
Why has there has been no response to the reservation/inquiry I made through your website?
We are sorry to keep you waiting. We normally start responding to reservations and inquiries in the order which they were received on the next day that we are open.
If you do not hear from us after 2 or more days, we ask that you please contact us by telephone (0134-31-1733).

+Please be aware that recently there have been a number of cases where we could not respond because of misspelt email addresses and junk mail filter settings.

How can I pay for tickets?
You can pay at our ticket center by:
cash
credit card (VISA, Mastercard, JCB and UnionPay)
barcode payment app (PayPay, Rakuten Pay, d Pay, au Pay, merpay, Yucho Pay, WeChat and AliPay)
Can I choose where I sit?
We are sorry, but it is normally not possible to choose seats. The captain will tell you where on the boat to sit.
Passengers are normally seated from the front of the boat in the order that they line up, but this may change due to passenger numbers, the boat's balance and so on. Again, please be aware that if the boat is full, you may be asked to share a seat with other passengers.
About course changes, cruise cancellations and our cancellation policy
Do you operate even if the weather is bad? How can I check if you are operating?
Cruises will operate when it rains. We will provide rain coats free of charge.
Cruises will be cancelled, or the course our boats take will be changed if heavy rain, heavy snow, strong winds, high tides, thunder storms and other weather conditions/circumstances make it unsafe to operate.
Again, please be aware that because of sudden downpours and weather changes, earthquakes etc., we may need to cancel cruises shortly before departure.
 
Please see our website's top page to check our operating status. It is updated regularly.
Can I receive a refund if my cruise is cancelled after I have paid for tickets?
A full refund will be provided when we decide to cancel cruises because of bad weather and other circumstances.
We will provide refunds and return vouchers at our ticket center. Please return your tickets and receipt to our staff within our operating hours that day.
 
If you have arranged a private charter cruise or have reserved and paid through websites such as KKDAY and Jalan:
There are cases where refund procedures begin the following day. Once these procedures are complete, a notification should be sent from the website you used to make a reservation. Please be sure to read it.
 
If you have made a reservation through a travel agent:
Depending upon the package your travel agent has arranged, we may not be able to provide a refund. Please contact your travel agent directly about what to do.
Can I recieve a refund if I decide to cancel?
After tickets have been issued, it is not possible to changes to a cruise at another time. Again, we will not provide refunds when customers decide to cancel because of personal preference etc. This is to prevent unauthorized acts such as the buying out, resale etc. of seats on our cruises. Please reserve/buy seats on a cruise that you are able to take.
When and how will the course for cruises change?
The course our boats take may change because of strong winds, waves and high tides. Please refer to the maps below to see how the course may change.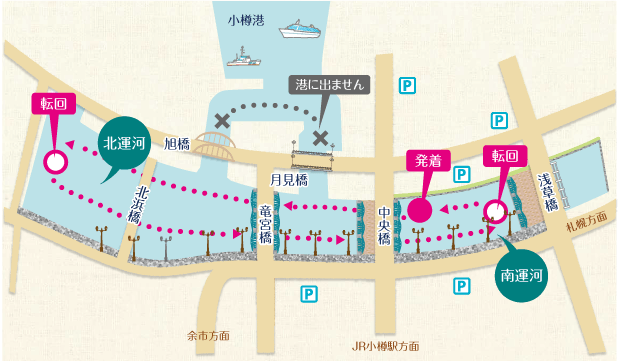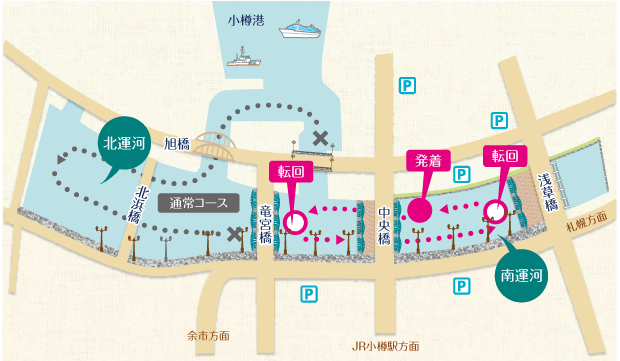 Is there explanation in languages other than Japanese?
The explanation on our regular cruises is normally in Japanese. However, the boats used for these cruises (Canal 2, Canal 3, Canal 5, Canal 6 and Canal 7) are equipped with an audio guidance system that provides information in English, Chinese and Korean to passengers from overseas. The earphones needed to use the guidance system are available for free.
Do you have a car park?
We do not have parking facilities, so please use one of the user-pays car parks nearby.
Is it possible to go to the toilet during the cruise?
Our boats do not have toilets. If necessary, use the toilets at our ticket center or the public toilets nearby before boarding.
Can you look after my belongings while I am on the boat?
We are sorry, but we cannot look after bags and other belongings. Please take them onto the boat with you. Wheelchairs and prams can be stored in the boarding area next to our ticket center.

+The boarding area is unmanned at times, so please be sure to keep valuable items on your person.

Are your boats accessible by wheelchair?
We are sorry, but due of the design of our boats and boarding area, access by wheelchair is not possible. There are about 10 steps between the boarding area and jetty, and about 4 steps between the jetty and boat. If you can navigate these by yourself or with the assistance of the people travelling with you, you are most welcome onboard.
Can I bring my pet?
We are sorry, but pets are not allowed onboard.

+Guide dogs may come onboard when necessary.
Is there a space for changing nappies, feeding babies etc.?
There are no such facilities at our ticket center. Please use the facilities at the Canal Plaza, which is a 1 to 2-minute walk away.
Can I eat and drink during the cruise?
You are welcome to consume snacks and both non-alcoholic and alcoholic drinks onboard.

+During the summer, you can buy Otaru Beer at our ticket center.
+For safety reasons, people who have had too much to drink will not be allowed to board.
Are photographing, filming, live-streaming, broadcasting etc. possible?
Please refrain from live-streaming and other such acts while in the ticket center and boarding area and on our boats.
Again, when posting any photographs or videos you take to the internet, we ask that you consider the privacy of others, and personally take responsibility for the material you post.
Finally, please contact us in advance to arrange photographing, filming, image creation and interviews for television, movies, magazines etc.
What is the best time to take a cruise?
We think that there is no bad time to take a cruise.
 
If you want to enjoy taking photos of people or the scenery around the canal, we recommend day cruises. Again, we recommend night cruises, if you want to enjoy the canal's scenery at a quieter time.
As Otaru's port is faces east, you cannot directly see the sun set. However, cruises in the evening (during magic hour) are very popular. This is normally around the time of the last day cruise and first night cruise each day.
+As the time the sun sets can change from day to day, this may not always be the case.
At what time does the canal's light up start?
The gas-powered street lights around the canal and the lights illuminating the old warehouses on the banks of the South Canal turn on at sunset. Please check the time the sun will set before visiting the canal.
How should I dress?
Spring (April and May)/Autumn (September to early November)
It can be cold after dark, so please bring a jacket.

Summer (June to August)
It can be very hot in the summer, so we recommend wearing light clothes. We also recommend bringing cold drinks, sunglasses, sunscreen and other items the help prevent sunburn and heat stroke.
 
Winter (late November to March)
Although our boats are equipped with tents and heated seats, it can still be very cold. Please come prepared for sub-zero temperatures. We recommend wearing down jackets, winter coats, hats, gloves, scarfs etc.
How cold is it in the winter?
It can be very cold in the winter. Our boats are normally equipped with tents and heated seats from November to March, but we recommend wearing hats, gloves, down jackets and other clothing suitable for sub-zero temperatures.