Our Canal Boats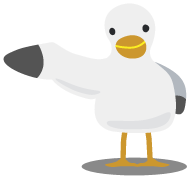 We currently operate seven canal boats. These retro cutter boats have stylish navy blue hulls, and are designed to match the scenery in the historic canal area. They are powered by small, environmentally friendly engines, and run on biodiesel, which is produced by recycling used plant oils. Again, most of our canal boats are equipped with bow thrusters to help them navigate the canals tight spots.
Canal I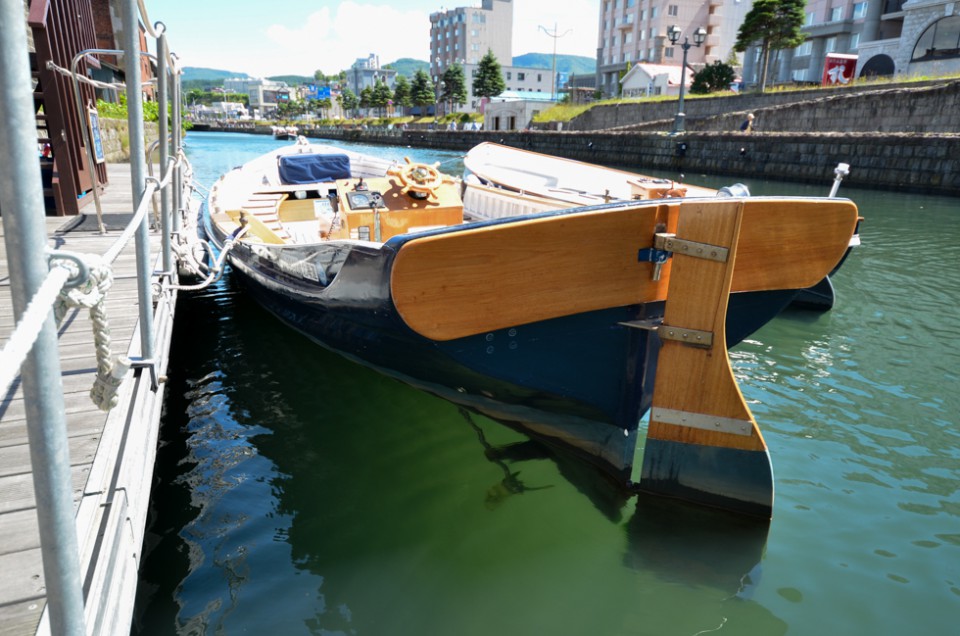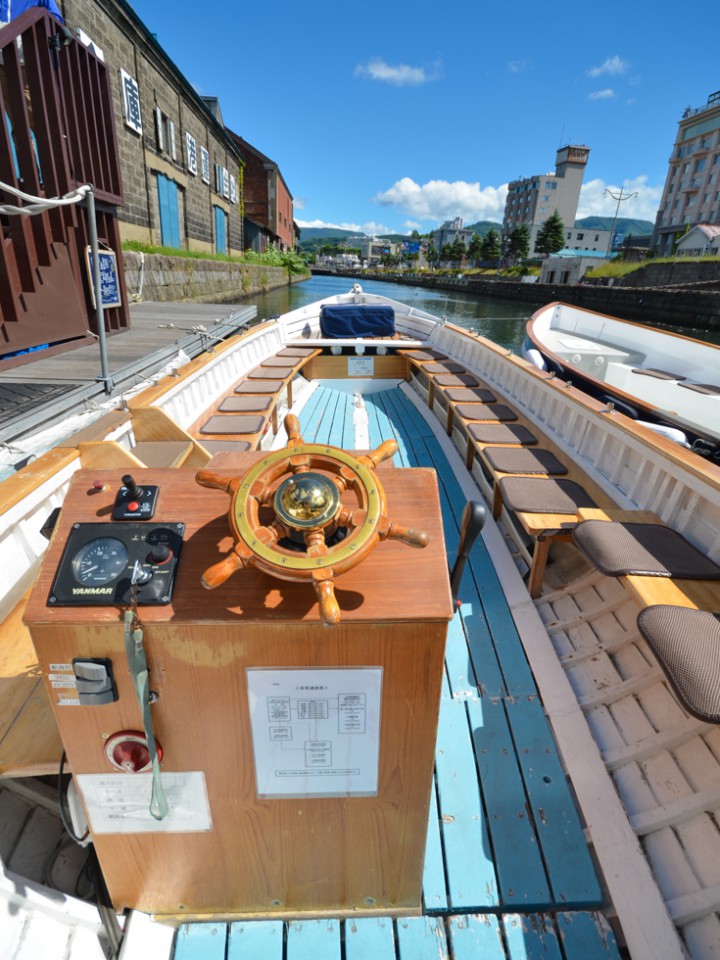 Passenger Capacity: 20 people / Built in 1973
Canal I was originally a multi-oar row boat. It was built in 1973, and is made from Japanese cypress, which is a valuable timber today. Canal I was bought to Otaru two years later. This was a time of heated debate about the canal's future, and this old-timer has seen the changes to the port and the canal over the years. It was refitted as a canal boat in 2008, and although rumors of retirement have been heard, it runs just as well as the younger canal boats.
Canal II and Canal III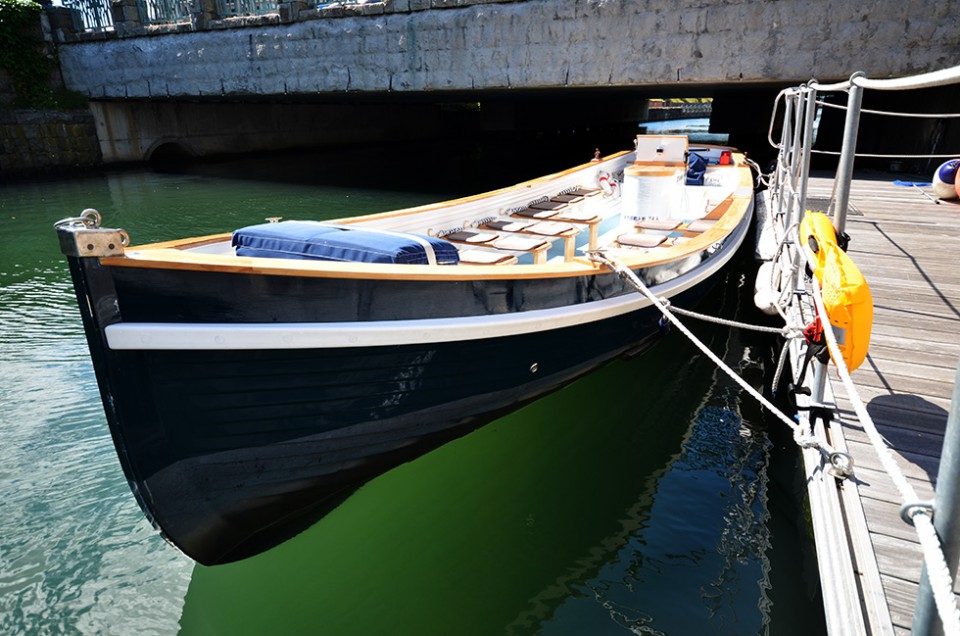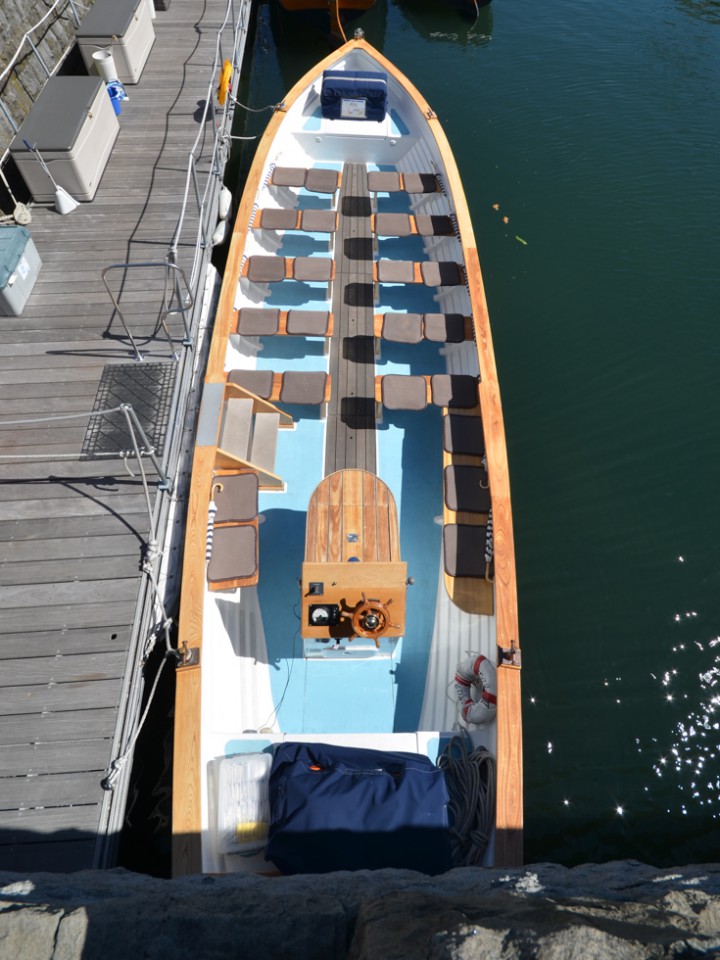 Passenger Capacity: 23 / Built in 2012
Canal II and Canal III were built in 2012, and are almost-identical twin sisters. If you have the chance to see the both boats, try and spot the difference. The design for these boats is based on that for Canal I with various improvements made. For example, they are about the same size as Canal I, but are built from fiber-reinforced plastic, which makes them lighter and more maneuverable. Again, most of the seats on these boats face forward. This allows passengers to sit more comfortably, and to also get better views during the cruise.
Canal IV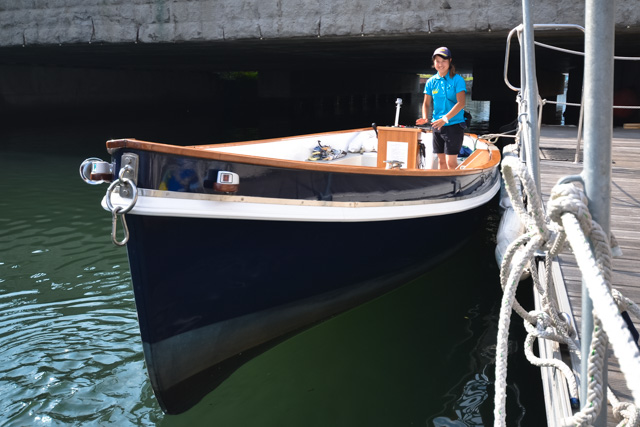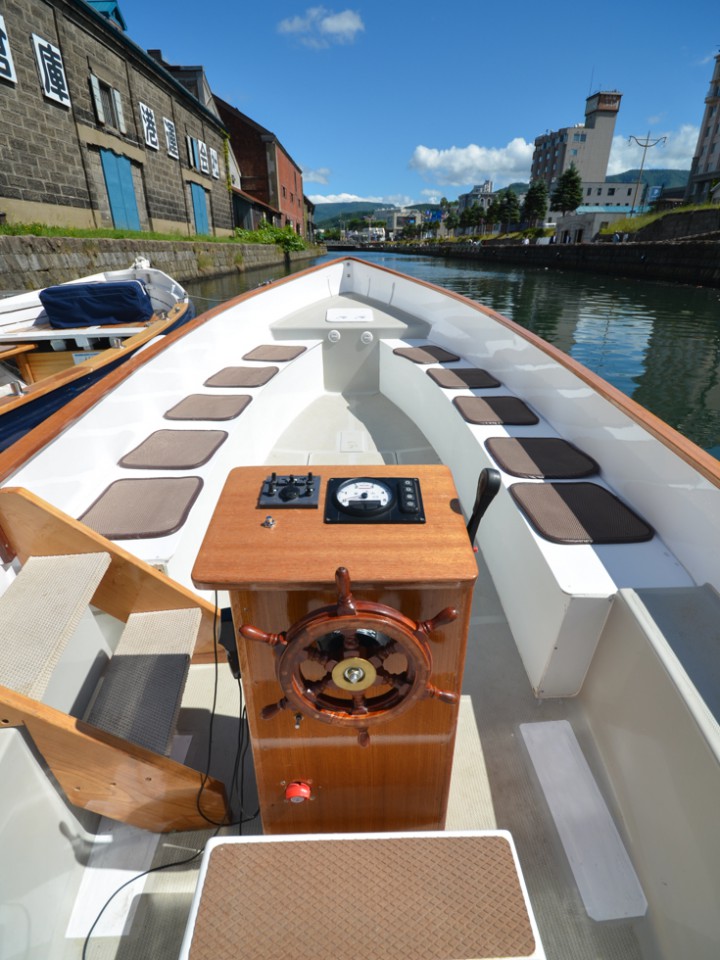 Passenger Capacity: 10 / Built in 2015
Canal IV is our newest canal boat, and is compact, cute and highly maneuverable. It is the only canal boat that can make a 180 degree turn in the narrow South Canal without reversing. Again, as this boat is smaller, and closer to the water surface, it offers passengers views that are different again to the larger canal boats. This little boat could be just what you are looking for if you would like to arrange a cruise or private charter for a small group.
Canal V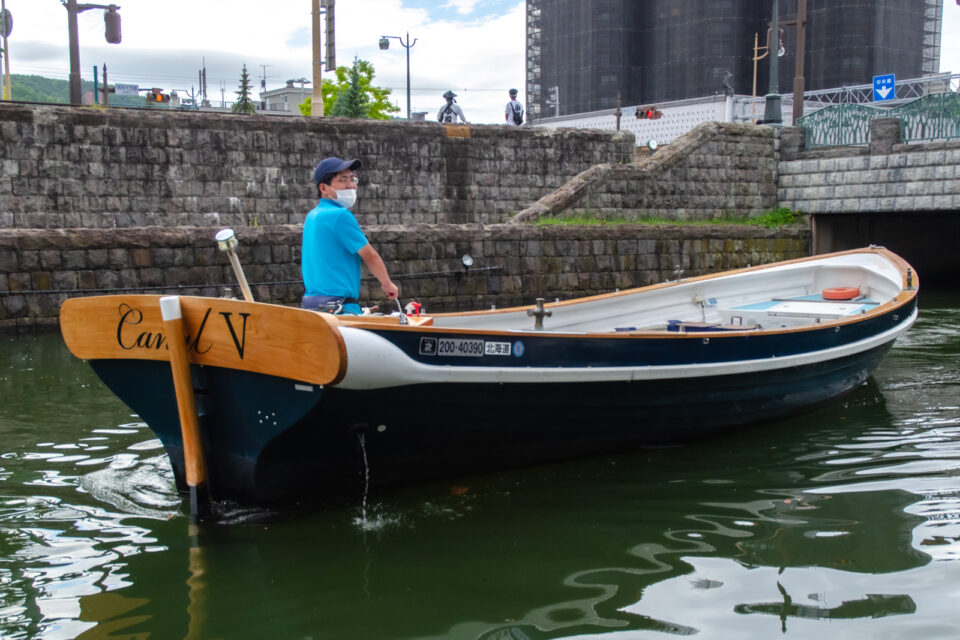 Passenger Capacity: 40 / Built in 2015

Canal V was completed in August 2015. The design for this boat is based on that for Canal II & III, but it is slightly larger. It is 1 m longer and 0.6 m wider than its predecessors. If size-wise our smallest boat, Canal IV, is a dolphin, then Canal I, II and III are orcas, and Canal 5 is a whale of a boat. Again, the shape of this boat's bow is quite distinct, and according to some of our staff, is whale-like in appearance.
Because of its size, Canal V is a little slower than the other canal boats, but in terms of maneuverability it is on a par with the highly agile Canal II and III. Again, this large boat can carry up to 41 passengers. As this is about the same passenger capacity as a large tour bus, this boat is just perfect for use by big groups.
Canal VI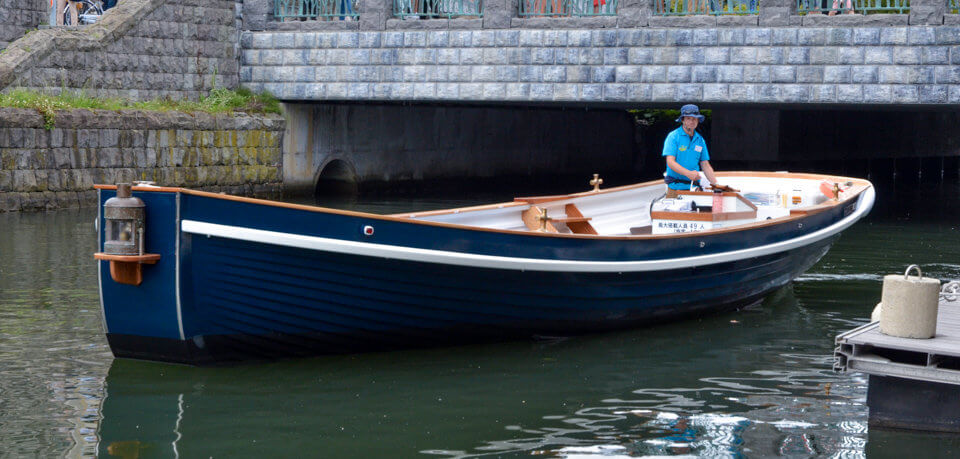 Passenger Capacity: 48 / Built in 2017

Canal VI is a jumbo canal boat like Canal V. Both of these boats are about the same length and width, but unlike Canal V whose pointed bow gives it a slim appearance, Canal VI has a broad bow that is round in shape. This gives it a somewhat chubby appearance. Canal VI actually is chubby, or more precisely wider overall. This not only makes it more spacious, but allows for 8 more seats. It can carry a maximum of 48 passengers, which makes it perfect for use by large groups.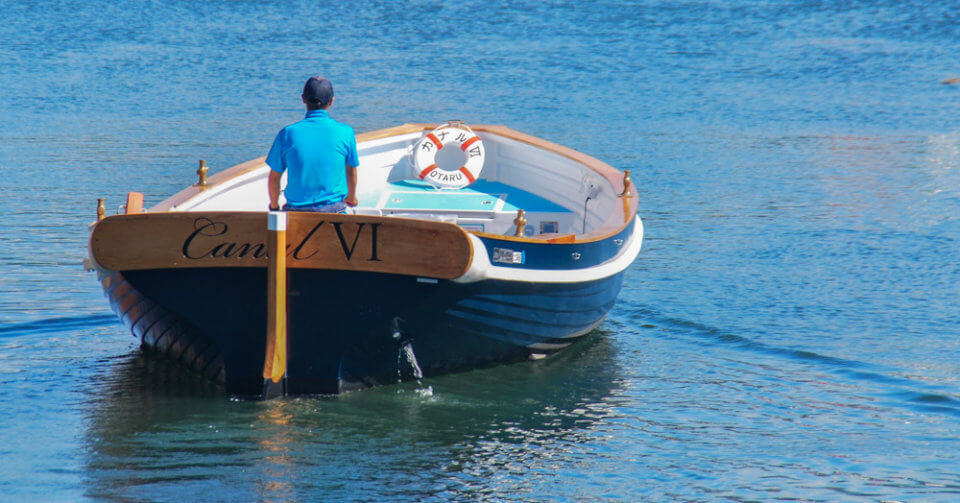 Again, while chubby, Canal VI is on a par with Canal V in terms of speed and maneuverability. It has no problem doing a 180 degrees term in the narrower parts of the South Canal. Finally, please be sure to take a look at Canal VI's bow. The antique lantern there is quite charming.
Canal VII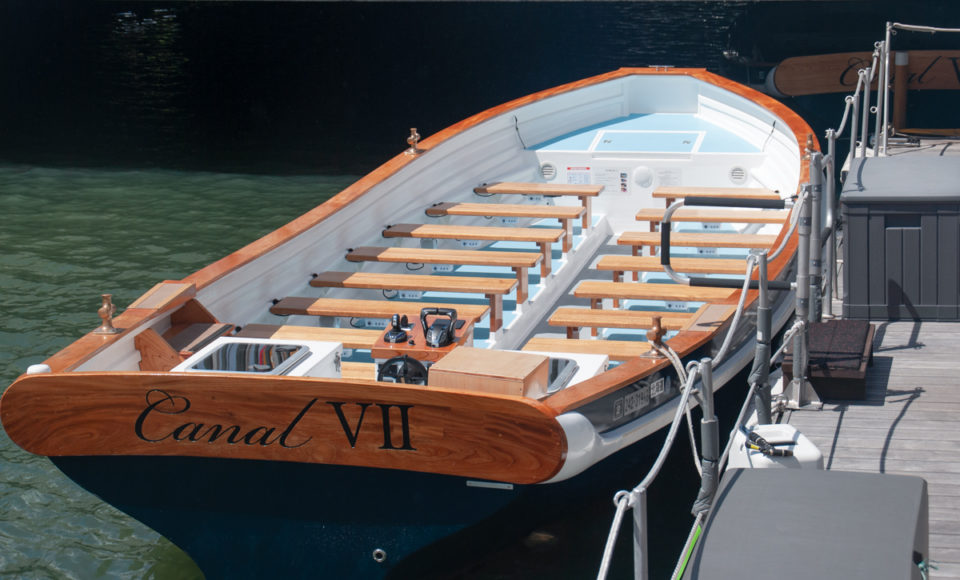 Passenger Capacity: 42 people / Built in 2020
Canal VII is equipped with HARMO; a next generation electr on ic propulsion unit and steering control system developed by Yamaha Motor Co., Ltd.
Being electronic, Canal VII emits no exhaust gases. This makes it even more environmentally friendly than our other biodiesel powered boats. Again, an extremely quiet motor allows you to really enjoy the sounds of the water and wind.
Furthermore, Canal VII's control panel has not only a steering wheel and throttle lever, but also a joystick that makes handling simple and intuitive. While Canal VII was built to the same design as the jumbo Canal VI, this joystick makes it easier to rotate the boat and allows for more efficient and sa fer 180 degree turns at the ends of the canal. If interested, please take a look at the control panel when getting on or off.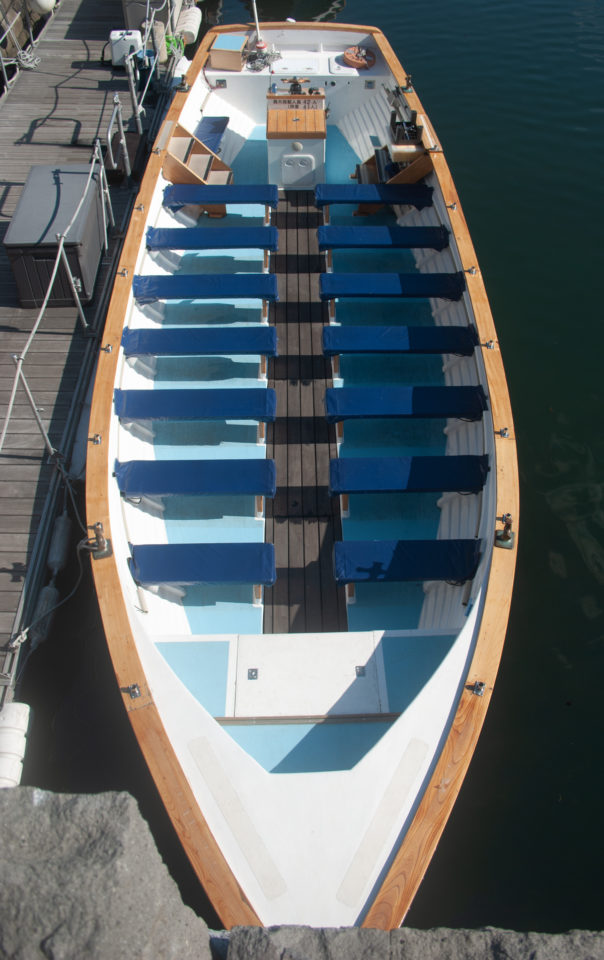 We hope that you can enjoy the sounds of nature and the canal's nostalgic atmosphere when cruising on Canal VII. A gain, for infor mation about the HARMO system by Yamaha Motor Co., Ltd ., please click on the link below.

As we operate so that as many people as possible can take our cruises, it is normally not possible to choose which boat you take. We may be able to make arrangements in the case of group bookings and private charters, so please contact us in advance.